Over 600 Flavors of Natural Lip Balm to Feed Your Addiction!
& Other Bath & Body Products too.

My Lip Stuff is Serious Skin Care with a Fun Flair!

Find out more about My Lip Stuff by clicking on any of the information links
or if you know what you want - go directly to our ONLINE STORE to shop now!

MY LIP STUFF NATURAL LIP BALM-
600+ flavors to feed your addiction and soften your lips.

We also have other bath and body products too:
Body Butters, Bath Salts, Linen Sprays, & so much more!

My Lip Stuff products are skin, earth, and animal friendly.
That means we NEVER test our products on animals
and use only the finest ingredients
that are skin safe and environmentally friendly.

My Lip Stuff products can be customized
or personalized for the ultimate lip balm experience.
Custom label lip balms are great for
business promotions, weddings, showers,
or any event where you'd like to give a personalized gift.

Check out our website
for tons of information about our products
or just go straight to the ONLINE STORE and go shopping!

My Lip Stuff Natural Lip Balm- in over 600 flavors & many different label choices. Get our regular label lip balm or what we call "fun labels". Express yourself with lip balm! Try out our Booze Balms, Mood Lip Balms, Days of the Week Lip Balms, Calendar Lip Balms, Magic 8 Balms, Fortune Cookie Lip Balm, Loveabalms, Party Favor Theme Lip Balms, Call Me Lip Balms, Horoscope Lip Balms, Voodoo Lip Balms, and more! Or we do also create Personalized Lip Balm, Custom Lip Balm, Private Label Lip Balm, & Promotional Lip Balm! Perfect for business promotion, wedding favors, bridal showers, baby showers, birthday parties & other special events! We might even be able to make your favorite flavor if it isn't one of the 600+ flavors we make already. My Lip Stuff is the ultimate lip balm experience: a cruelty free environmentally friendly company, & a natural lip balm that is not only the best moisturizing lip balm on the planet but it's flavor choices are nearly limitless. "Serious lip care with a fun flair". So feed your addiction (or start a new healthy one) & get some My Lip Stuff today! Don't forget to check out our other handmade natural bath and body products, & our 100% VEGAN LIP BALMS! All our quality products are made from only the finest ingredients.
Please follow the links to find the information you need, or feel free to call or email us if you have any questions.
Thank you!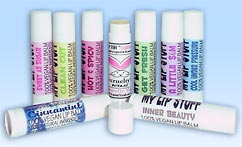 My Lip Stuff is a skin-earth-animal friendly company,
& we back up that statement by signing documents with various organizations to pledge our commitment to always remain natural & eco-friendly.