http://www.caringconsumer.com/my_lip_stuff_contest.asp
My Lip Stuff: Cruelty-Free Kisses
<![if !vml]>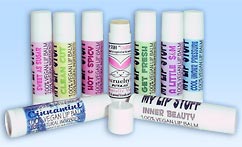 <![endif]>
Kiss dry, chapped lips—and cruel animal testing—goodbye with My Lip Stuff's lip balms in more than 400 delicious and unique flavors, including Green Tea, Pancakes & Syrup, Tomato, PB&J, Strawberries & Champagne, and many more.
In addition to its usual mouthwatering flavors, My Lip Stuff has created a special PETA "Charitabalm," featuring our cruelty-free bunny logo above the words "live cruelty-free." My Lip Stuff is donating 50 percent of the proceeds from every tube of this 100 percent vegan lip balm to PETA! And since all of My Lip Stuff's lip balm tubes are available with custom labels, you can commemorate a wedding, promote your business, or just ensure that no one tries to swipe your lip stuff.
My Lip Stuff founder Brea Millman started the company in 1999 with the mission to "end the suffering of people with chapped lips all across the land" as well as to "end animal testing and save the environment with chemical-free natural products." For her commitment to creating cruelty-free products that give lips and animals a reason to smile, PETA is honoring Brea with our Trail-Blazer Award.